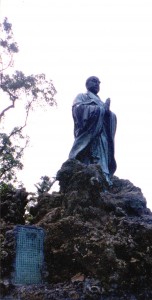 This page contains a fairly random list of study resources. Many of them are old discussion papers which may conceivably be viewed as sources for ideas and discussion but which are certainly not authoritative. Caveat emptor. Other resources are links to sites which are unofficial or from other sanghas or traditions. The intention is to provide different and interesting approaches to a wide range of study topics.
Legal Health Warning: All of this material is copyright (c) by the original authors and reproduced here either with permission or as 'fair play' usage. All of it collectively and individually represents the view(s) of its author(s) only.

Please let us know about anything you object to seeing posted or with which you disagree using the Contact form or forum page.
Topic
Select Here
Format
Size
Updated
Study Topics

SGI USA Online Library including searchable Gosho

Lotus Sutra translation by H. Kern (1884) from the Huntington Archive. This is more academic than the Burton Watson translation but not restricted by copyright. [PDF]

Study Basics Programme from 2003/4 (superceded)

Gosho Lectures
SG President Josei Toda: Lectures on the Lotus Sutra

ZIP

148KMb

First SGI-UK General Director Richard Causton: 23 Lectures on the Gosho – a YouTube Channel researched and presented by Simon Matravers. An excellent resource.


YouTube

Reply to Sairenbo – Gosho Study

DOC

86Kb

may01

Flowering and Bearing Grain: Master-Disciple Unity

DOC

1.2Mb

30may02

Fourteen Slanders – UKE Article by Nick Rowntree

DOC

42Kb

1991

The Kalpa of Decrease (on Good and Evil)

DOC

64Kb

15jan03

On Prolonging One's Lifespan


DOC

110Kb

nov01

Essentials for Attaining Buddhahood


PDF

110Kb

apr03

On Repaying Debts of Gratitude


DOC

1240Kb

May02

Hell Is the Land of Tranquil Light


PDF

45

Kb

aug03

The Master-Disciple Relationship: A Talk by Greg Martin

DOC

66Kb

aug03

The Object of Worship for Observing One's Mind: Kanjin no Honzon Sho

DOC

66Kb

nov04

Letter from Sado: Changing Karma and True Cause

DOC

4.4Mb

14mar05

Hero of the World: Sansho Shima and Overcoming Fundamental Darkness

DOC

159KB

10oct05

Letter to the Sage Nichimyo: Gosho only

DOC

159KB
Opening of the Eyes Part II: Bodhisattva Vow

DOC

159KB

Nov03

Topics and Talks

Buddhism, Family and Relationships – Talk at Worth Abbey Interfaith Conference 24oct10


ZIP

88

Kb

24oct10

All About Buddhism – Talk at Thomas Bennett Community College, Crawley, 07Feb17


PPT

30Mb

07Feb17

The Purpose and Aims of The Elementary Study Exam 2003 (for more information see the Basics of Buddhism page)


PDF

1

2

0Kb

aug03

World Gosho Dialogues 1-8

ZIP

240Kb

The Four Bodhisattvas: Textual Analysis of Ideograms – Anryugyo


DOC

240Kb

Study Lecture Guidance

Mr. Causton's 1983 Study Guidance

HTML

10KB

09nov02

Daisaku Ikeda, New Human Revolution, Youth Division and Study

HTML

09nov02

Non-SGI Resource Material

Review of Principal Buddhist Texts and their Provenance

HTML

17mar05

Rissho Ankoku Ron, A commentary by Ryuei Michael McCormick. Ryuei discusses Nichiren Daishonin's critique of Honen's Pure Land school. Ryuei was ordained as a Nichiren Shu priest but writes on a variety of topics.

HTML

2004

Buddhist Blogs webring. For personal views the webring system offers quite a varied collection. A more Lotus Sutra oriented hubpage also exists.

HTML

2004